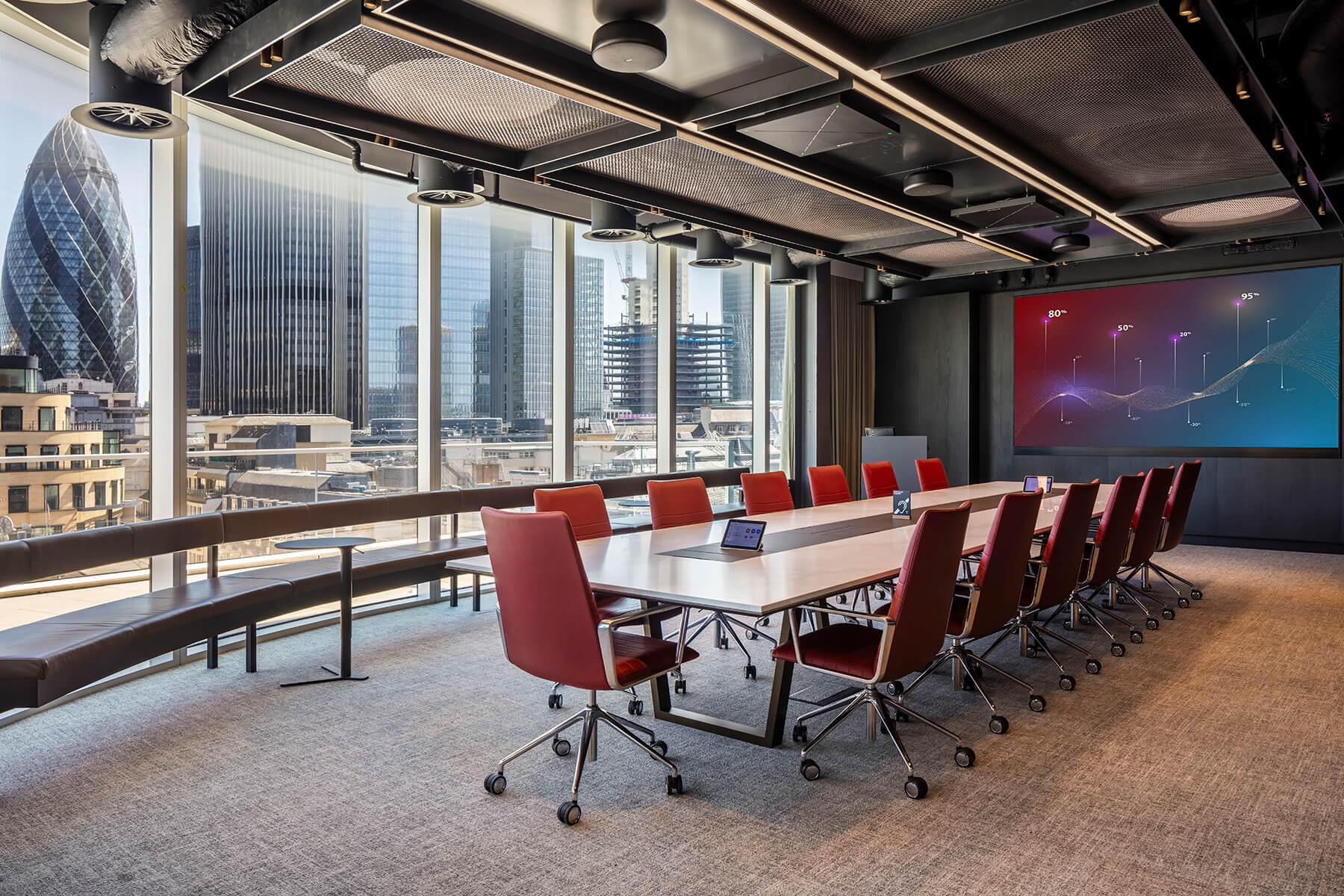 Global Investment Firm
Major Office Relocation and Large-Scale Fitout
Contractor
Structure Tone
The background
Our longstanding client is a leading global investment firm. Over the past five-years, Kinly has worked closely with this customer, providing expert maintenance and support services for AV systems installed at its previous office.
The client approached the Kinly team with plans for a major office relocation, located across 45 rooms in the sixth and seventh floors of a new London premises, by the end of 2022. This was driven by the need to migrate from its previous office and meeting rooms which had become small and outdated. Its legacy AV hardware was also no longer fit-for-purpose in the modern working landscape. This was a high-profile move and AV upgrade project where failure was not an option. As a result, the client needed to partner with a trusted advisor who could demonstrate the ability to overcome challenges and mitigate risk to ensure a successful project delivery, on time and within budget.
The project first began on a consultancy basis with the client working in close conjunction with Kinly's design consultation team through a series of design and development workshops. During the initial engagement, the client developed a great amount of confidence in Kinly and, owing to Kinly's detailed and methodical approach, identified the requirement for additional equipment and meeting room spaces. Originally intending to tender the project, the client then decided to entrust the project directly to Kinly, saving a significant amount of time and resource.
"I wanted to express my gratitude as to the astounding amount of professionalism the Kinly team has shown me. The team have been some of the best vendors I have worked with on a project in the past ten years. No matter the question I had, someone always took the time to answer me and also explain the aspects of AV in a manner that I, a non-AV person, could fully understand."
Client Project Lead
Global Investment Firm
The solution
The design makes effective use of Kinly's extensive partner network, comprising established relationships with the best technology manufacturers in the marketplace.
The client made it clear that their preference was to use Zoom for internal and external communication. However, users regularly connected to other calling platforms for externally-hosted meetings. These included Cisco Webex, Microsoft Teams, GoToMeeting, Blue Jeans etc. As a result, Kinly ensured that all meeting rooms were natively enabled for use in the Zoom environment with optional BYOD capability providing effective usage for all calling platforms.
The design makes effective use of Kinly's extensive partner network, comprising established relationships with the best technology manufacturers in the marketplace. This includes Poly X70/E70 large room video conferencing solutions, Extron Nav AVoIP, NEC displays, QSC Audio, Sennheiser Team Connect microphones and Tripleplay IPTV. Deployed throughout the client's meeting rooms, this bespoke specification of technology delivers best-in-class audio, video and control. In addition, the integration of advanced assistive listening technologies ensures the client can provide an inclusive and accessible working and meeting environment.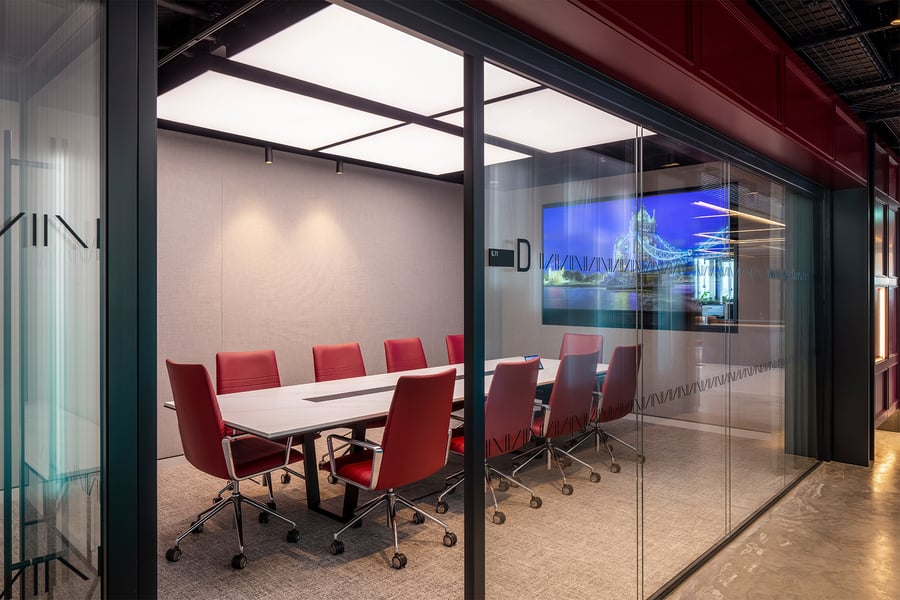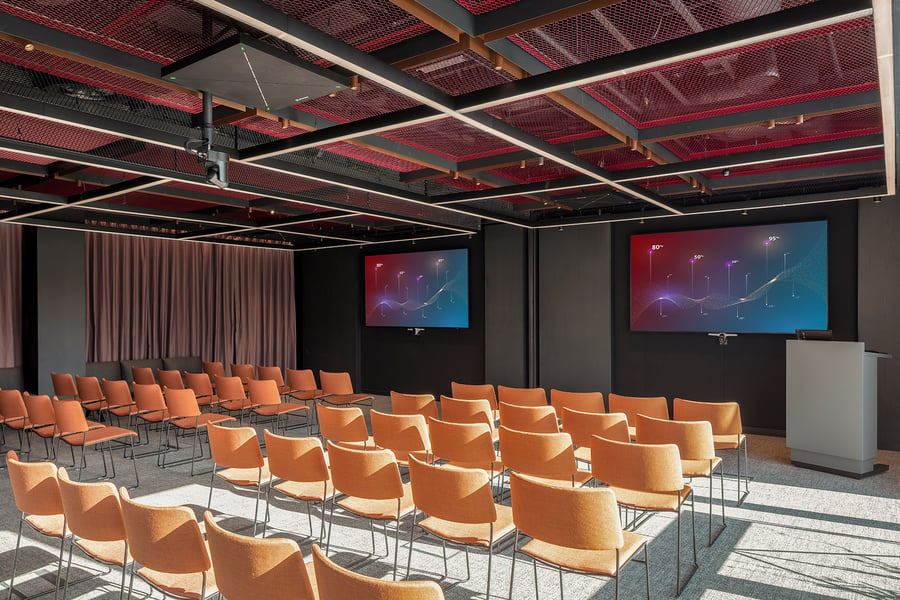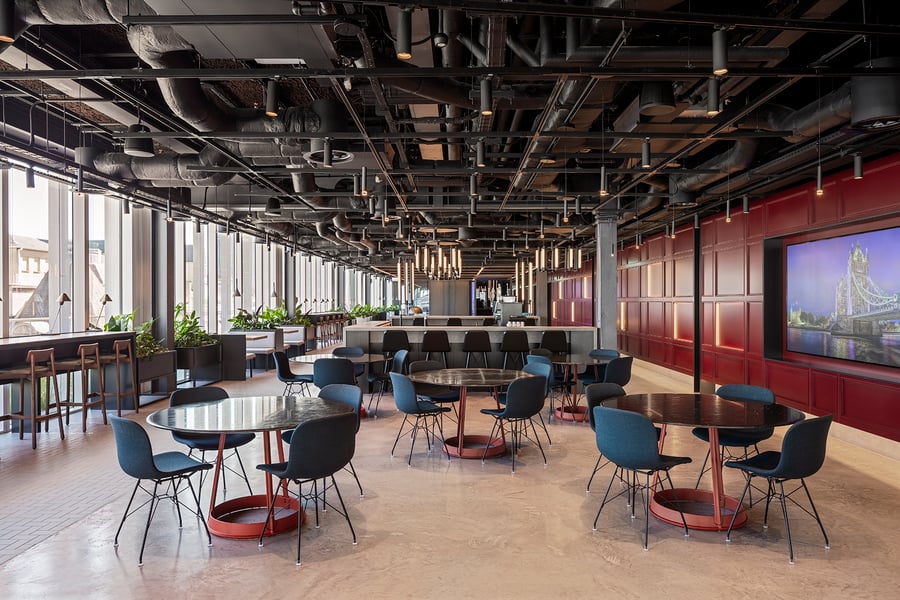 The result
The feedback from the client has been fantastic. The business now has everything it needs to deliver immersive, simple-to-use and inclusive meeting experiences for its clients and employees.
Kinly provided the client with expert design services, bespoke technology solutions and integration across its new 17 huddle rooms, three conference rooms, two board rooms, two reception rooms, large divisible multi-purpose room, hub and broadcast rooms. Kinly also equipped the reception room with digital signage capabilities for broadcast and messaging while securing compatibility with the client's preferred platform, Zoom, across all spaces.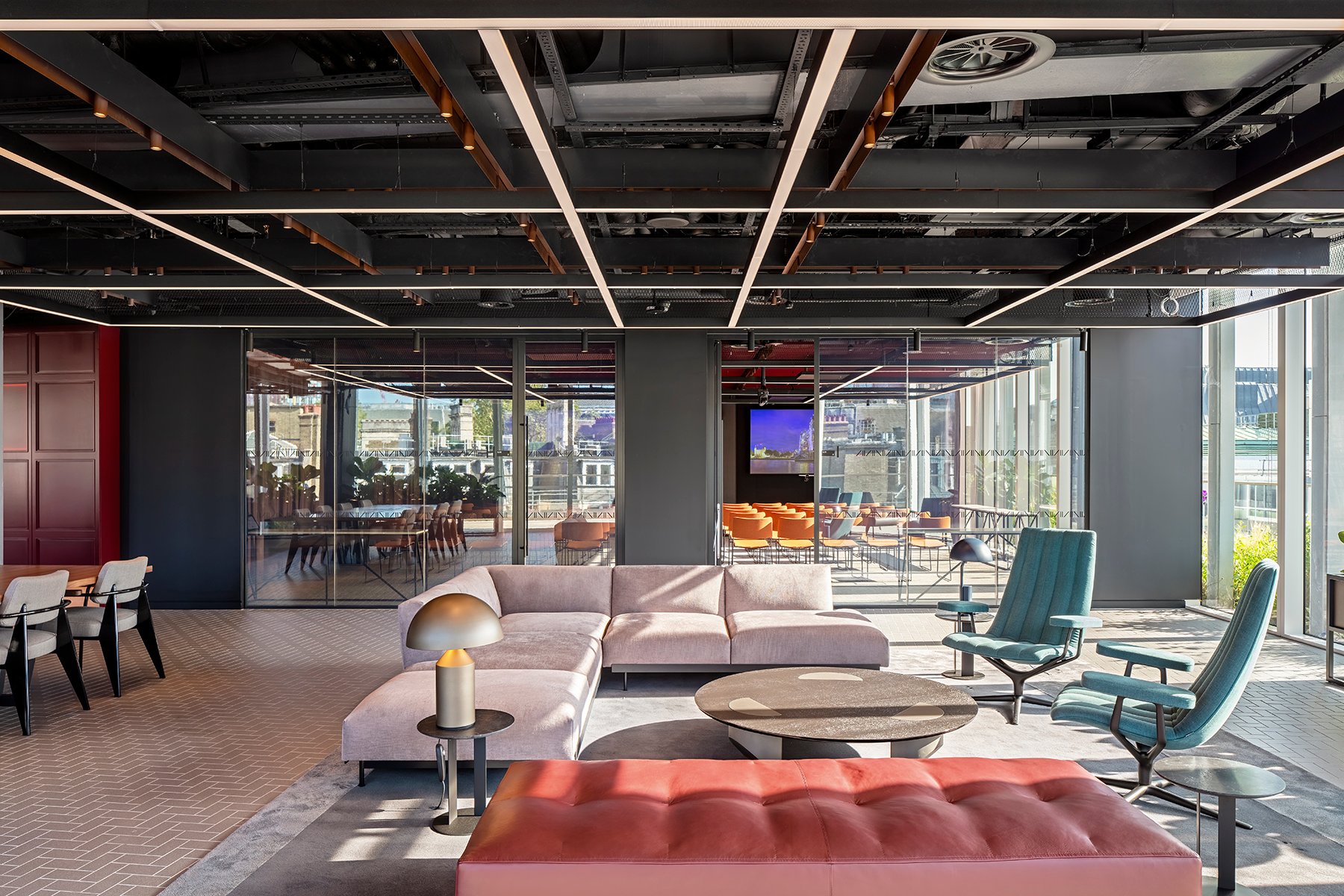 "The team always had themselves together and I was never worried. The information was readily available when asked for and not to mention the amount of times the team on-site have gone above and beyond in the past couple of months."
Client Project Lead
Global Investment Firm
Want to get in touch?
Our team are real experts in their field and always have your best interests in mind. They'll be able to answer any question which might spring to mind at any stage in your relationship with Kinly. So if you've got questions already, just get in touch today.
Fields marked * are required
Why Kinly
Bringing people and technology together for better productivity wherever the work happens – because great things happen when people work together.
Experienced
Dedicated expertise in planning, supplying, integrating and managing AV systems integration and remote collaboration services.
Proven
Globally recognised businesses relying on us for secure and flexible meeting and collaboration services.
Independent
A leading partner with the world's top vendors to deliver the best choice of solutions for public and private sector businesses.
Scale
An end-to-end provider of workspace transformation services with worldwide presence.
500

+

Accredited Specialists
1100

+

Employees Worldwide
21
Offices in 12 Countries