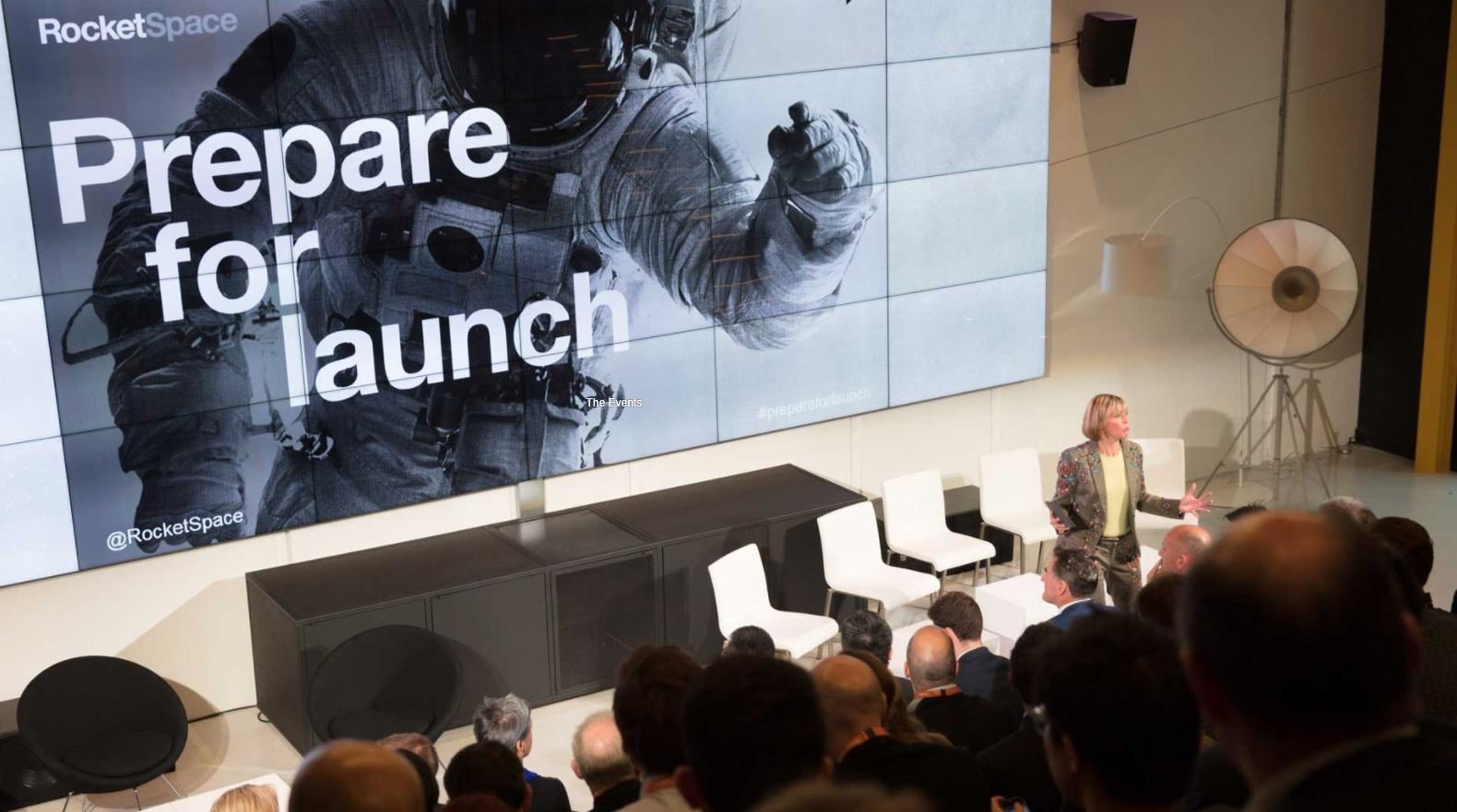 RocketSpace
Accelerating Growth With New Co-working Tech Campus
Why were we required?
When tech accelerator RocketSpace set up its first international tech campus in London, there was a requirement for a fully integrated AV solution to attract the best new tech startups.
How did we help?
Kinly delivered over thirty flexible meeting rooms, a state-of-the-art event space and digital signage solution, plus a full-time on-site presence to ensure a superior experience for members.
What was the result?
Rocketspace now boasts a technologically-advanced campus to help the world's most ambitious startups to scale with speed, and an event space fit for hosting pitch presentations for the tech giants of tomorrow.
The challenge
RocketSpace is a tech campus and community that connects tech entrepreneurs, startups and corporate innovation professionals to bring new innovations to market – with speed and direction.

Founded in San Francisco in 2011, where it was home to early Uber and Spotify, RocketSpace provides services and amenities that accommodate the needs of fast-growing tech startup teams, including office-as-a-service, a multi-gigabit internet connection, cafe, collaborative workspaces, and event spaces. Members also have access to hands-on workshops, peer group roundtables, trend talks and networking events.
In 2015, RocketSpace identified Regents House in London as its first international location. Previously home to RBS' cash holding centre, bank vault and offices, this 1980's building provided over 9,000 sqm of flexible working spaces but first needed to be completely stripped back to its shell to make room for this new state-of-the-art tech campus.
As part of this extensive refurbishment project, Kinly was appointed to design and deliver a fully integrated audio visual solution, covering thirty meetings rooms, an event space and building-wide digital signage, to help fast-growing British tech firms become the technology giants of tomorrow.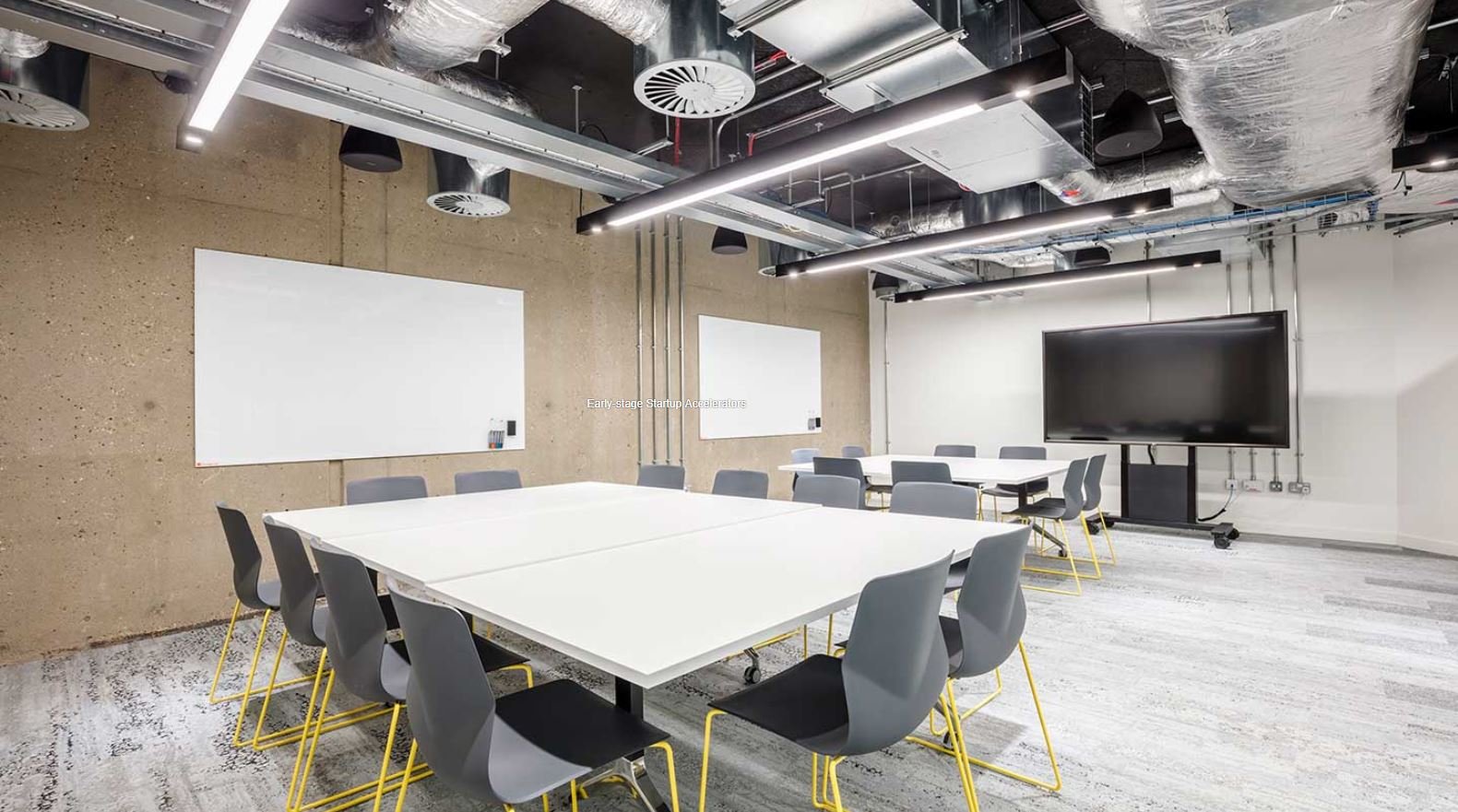 "As London's tech community continues to rapidly expand and drive innovation, so too will RocketSpace be able to cater to those growing needs with its highly flexible technology choices and connected workspaces."
Senior Director
Campus Development
RocketSpace
The solution
Kinly worked closely with the client and various project stakeholders including the building owner (RBS), network providers (BT), office refitters (Overbury), workspace designers (LOM architects) and event space consultants (Carcoal Blue).
As part of the design steering committee, Kinly's role was to design and deliver a flexible, high-performing, yet affordable solution. With over 120 start-ups using the facilities and each having their own technology platforms and requirements, it was important that the AV design supported the widest possible range of technologies.
To ensure the technology would still be current and relevant after the two-year refurbishment process, we took the client to visit a number reference sites and industry tradeshows to gather forecasts on future product releases. In fact, by procurement stage, much of the technology that was originally scoped had to be changed, so there was a continuous process of design revision to include the latest versions of technologies employed.
Another challenge was the physical build environment. Over 1,200 tonnes of materials had to be removed from the basement to make room for the event space, revealing the structural core of blast-proof reinforced concrete and creating a raw and exposed look. Our solutions had to fit seamlessly into these surroundings to compliment the stripped back utilitarian workplace design.
We delivered over thirty meeting rooms across three floors, offering a range of functionality. Simplicity and ease of use were key drivers for the selection of technology to encourage self-service.
The meeting rooms allow for both wireless and cable connectivity. Barco Clickshare is used for presentation connectivity, offering full support for Windows and MAC laptops, plus a large number of mobile devices. IT support is therefore minimal.
All meeting rooms feature soft conferencing facilities allowing members to connect via popular applications such as Skype, Zoom and Google Hangouts. Users can also have access and can easily connect to the cameras and microphones via USB to engage in video calls. The meeting rooms are therefore platform agnostic and extremely versatile.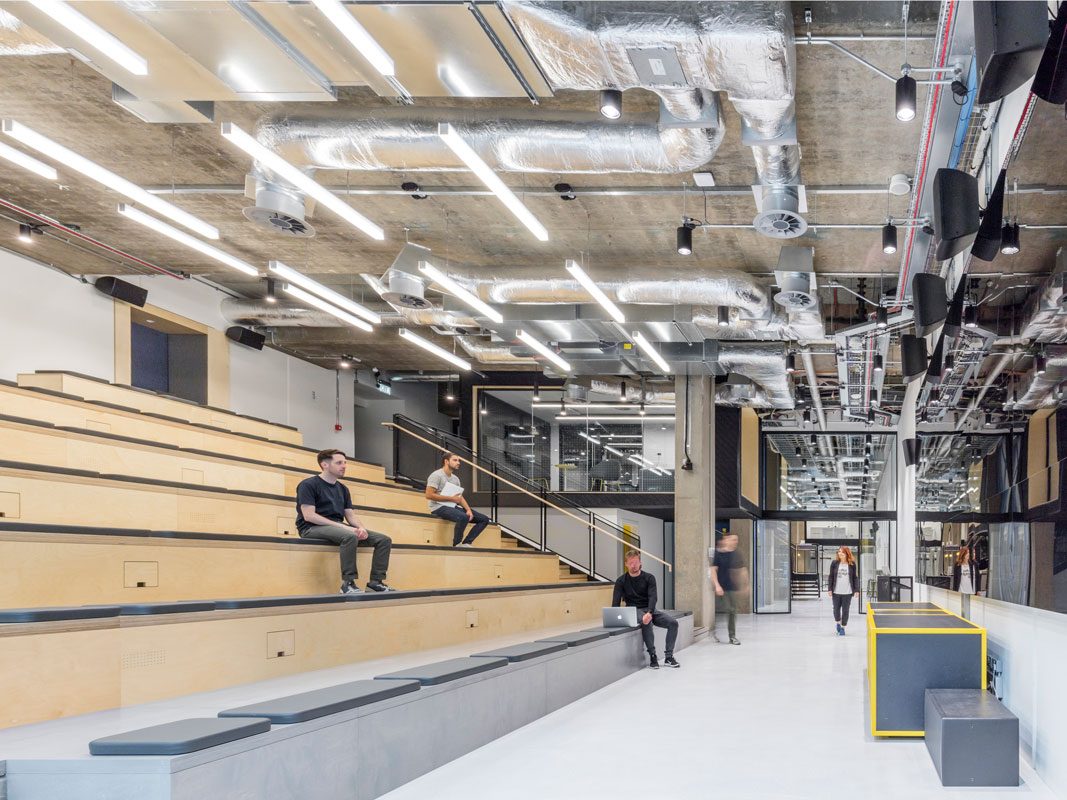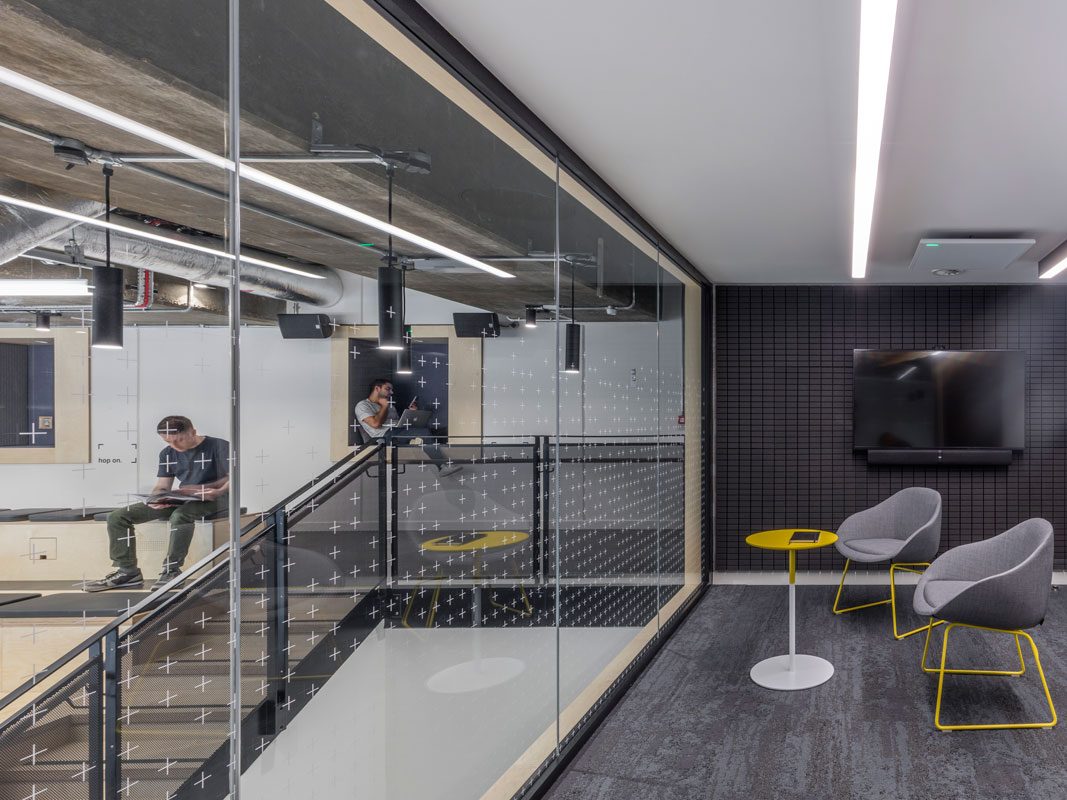 Larger conferencing rooms include additional conferencing functionality using a Cisco video conferencing whilst maintaining the compatability with soft conferencing platforms, ensuring a consistent user experience.
Kinly also delivered a number of digital signage displays for the reception and lift lobbies to display brand messaging and IPTV. The content is managed by the campus team using a OneLan system.
The jewel in the crown is a 90-seater event space, which is used by members for corporate presentations, product launches and educational seminars. As such, the space needed to be versatile and be easily reconfigured for different event types.
At the heart of the event space is a 2.75m x 7.3m ultra-thin bezel video wall, which is made up of 24 x 55" LG displays. The video wall is able to display 4k video or 8k images and is treated as a large canvas that is able to display up to four simultaneous content windows.
The result
Kinly delivered a world-class audio visual solution that, despite several major obstacles, was delivered on-time and on-budget. At handover, London was the most technically advanced and impressive campus in their global estate, representing the "jewel in our crown", adds Senior Director of Campus Development at RocketSpace.
Since opening, the event space in particular, has been so successful and in demand – from both its members and external organisations – that further capabilities are already being added such as production lighting and enhanced audio systems.
The London campus has given Rocketspace a real edge in what is already a crowded market, delivering a wow factor and allowing them to attract a great range of new members. In fact, the London campus has already welcomed over 120 fast-growing British tech start-ups and also provides an easy route for Silicon Valley firms to gain a foothold in Europe.
Wow factor
Event space provides wow factor for members and corporate investors
Simple and Easy
Simple and easy to use technology to promote a self-service culture
Clever Design
Clever design facilitates collaboration and innovation community
High Utilisation
High utilisation of meeting spaces plus fully-booked event theatre
Want to get in touch?
Our team are real experts in their field and always have your best interests in mind. They'll be able to answer any question which might spring to mind at any stage in your relationship with Kinly. So if you've got questions already, just get in touch today.
Fields marked * are required
Why Kinly
Bringing people and technology together for better productivity wherever the work happens – because great things happen when people work together.
Experienced
Dedicated expertise in planning, supplying, integrating and managing AV systems integration and remote collaboration services.
Proven
Globally recognised businesses relying on us for secure and flexible meeting and collaboration services.
Independent
A leading partner with the world's top vendors to deliver the best choice of solutions for public and private sector businesses.
Scale
An end-to-end provider of workspace transformation services with worldwide presence.
500

+

Accredited Specialists
1100

+

Employees Worldwide
21
Offices in 12 Countries